Personal Injury
National Accident Helpline was established in 1993 and has grown to an industry-leading position as an outsourced marketing services provider. The NAH brand, marketing scale and in-depth expertise along with our Panel Law Firm relationships place the business in an enviable market position.
Historically, our Personal Injury business has sought to attract consumers through our brand and marketing strategy to be assessed by our highly skilled team and then passed onto one of our partner law firms to process the claim. As a result of recent reforms in our industry, we expect to see traditional law firms reducing their appetite for such enquirers, which is why we are adapting our business model and leveraging our brand, technology and processes to take advantage of the opportunities ahead.
The Personal injury market
The PI market, worth £3.9bn, is typically segmented by claim type and heavily weighted towards Road Traffic Accident claims (RTA)
RTA market volumes are declining and this is expected to continue
NAH has always focused on non-RTA (Employers Liability, Public Liability, Other Liability). Non-RTA volumes remain robust
NAH operates in the claims management (CMC) sector of the market which is valued at £157m**
National Accident Helpline (NAH) is a market leader in non-RTA
* Market data from Compensation Recovery Unit (Department for Work & Pensions
** IRN Research, UK Personal Injury Market 2018
Market Segmentation by Claim Type*
Regulation changes in personal injury
PI reforms are progressing through Parliament with a target implementation date of April 2020
Small Claims limit increasing from £1,000 to £5,000 (RTA) and £2,000 (non-RTA)
Reduced consumer damages and reduced cost recovery for whiplash claims
Impact of Reforms on the Industry
Reforms will have no bearing on the number of accidents that occur, but will have a significant impact on both consumers and law firms.
Significantly lower levels of damages for the consumer in successful RTA claims.
A large proportion of consumers, who have historically depended on law firms, would be expected to represent themselves. They may find this confusing and burdensome.
Significantly less revenue per claim available for law firms and no legal fees recoverable on small claims resulting in reduced cash flow to fund further work acquisition and non RTA work.
Many traditional law firms require significant investment in technology, process and brand to achieve profitability post reform.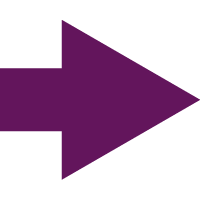 We are adapting our business model and leveraging our brand, technology and processes to take advantage of the opportunities ahead.
The opportunity to add more value to a claim
Consumers will still need advice and support on how the legal process works.
A new type of law firm is needed to take advantage of these opportunities.
We are uniquely placed to provide that service due to the strength of our brand, deep understanding of PI and levels of trust we enjoy with consumers
Our self-processing strategy enables us to:-
Grow market share in the larger PI market (£3.7bn) rather than just the smaller CMC sub-sector (£161m);
Take an economic interest in the success of the whole claim and capture value previously unavailable to us;
Develop technological and end-to-end process efficiencies to optimise the consumer experience and deliver profitable growth; and
Support consumers with a valid and worthwhile claim, irrespective of its size.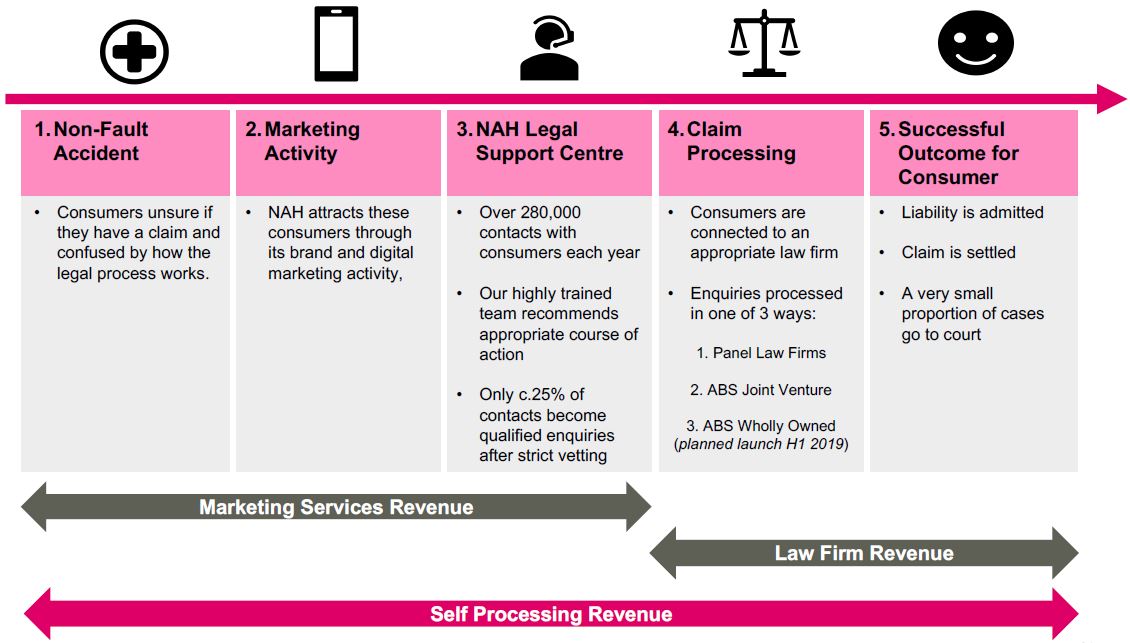 Our panel business model
National Accident Helpline generates direct response contacts from consumers who have had a non-fault accident, establishing whether we think they may have a claim and connecting them to a specialist solicitor. Research suggests that consumers in the UK personal injury litigation market are often not comfortable contacting solicitors directly. We act as an informative but sympathetic intermediary between the consumer and the law firm. Our trained Legal Service Advisors can tell the consumer within minutes if they think they have a claim.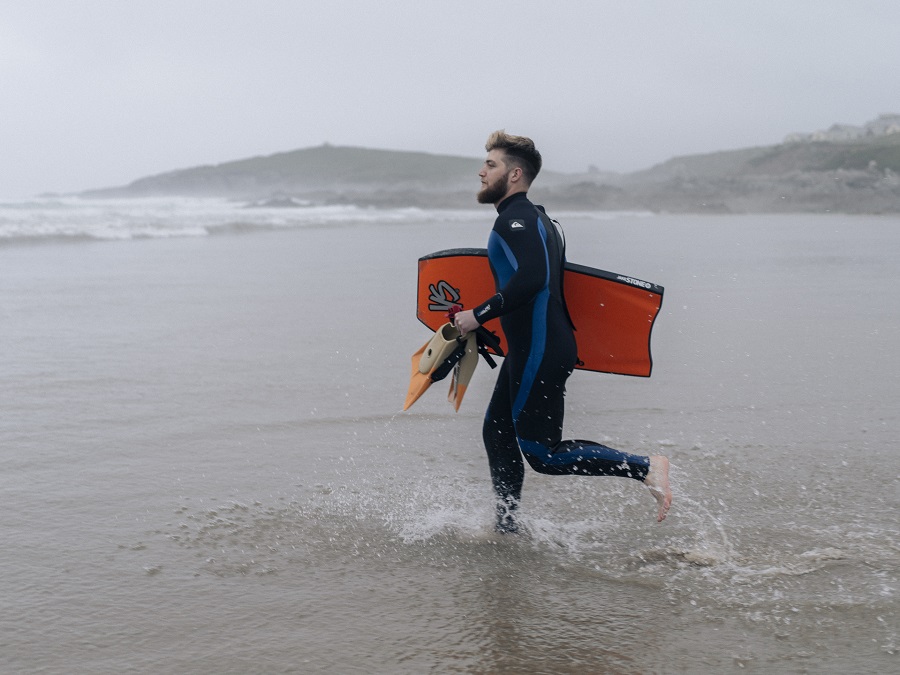 Using specific criteria, the contacts are filtered down by the NAH's Legal Service Advisors and passed on to our approved Panel Law Firms based on geographic location or specialism of the case (these are Enquiries). Once an enquiry has been transferred to a selected Panel Law Firm, the Panel Law Firm carries out a further risk assessment to decide whether to proceed with the claim or take no further action. The Panel Law Firm contracts directly with the claimant.
Digitisation is at the forefront of our business, enabling customers to find out if they could have a claim, at their convenience and in their own time, without having to speak to an Advisor straight away.
NAH is paid by our Panel Law Firms (the Panel Law Firm carries the risk on profitability and cash on the enquiry), and by providers of ancillary products, including ATE and medical assessments, in consideration for the provision of such products and services. We are not paid by the claimant.
As well as enquiry origination, NAH provides its Panel Law Firms with products that serve part of the legal process. The two main products are After the Event insurance (ATE) and medical assessments.
Our self processing business model
In May 2017 NAHL set up its first Law Firm, "Your Law LLP" in partnership with New Law Solicitors, part of Redde PLC. NAHL's ownership interest in the company enables the group to take a share of the profit from work processed by Your Law. Alongside our enhanced brand positioning, Your Law provides a platform to grow our share of the Personal Injury Market whilst continuing to provide high quality marketing services to our panel law firms. The setting up of this Alternate Business Structure is a positive development in executing the Group's strategic plans to advance its business model and prepare the division for the PI market changes being taken forward by the government.
In November 2017, NAH launched its second joint venture, National Law Partners, with solicitors Lyons Davidson. National Law Partners operates from offices in Cardiff and is staffed by colleagues seconded in from Lyon Davidson alongside a team of NAH employees who complete the first part of the legal process.
In April 2019, NAHL launched its first wholly owned, modern, digitally enabled, purpose built, small claims ready law firm.
For more information, please visit our consumer sites:
National Accident Helpline
Your Law
National Law Partners
National Accident Law